Looks like your ad-blocker is on.
All content on our site is
free
and
will always be free
.
Please consider supporting us with disabling your AdBlock software and to gain access to thousands of free content!
Not sure how to disable AdBLock? Follow this tutorial:
How to disable AdBlock
MCPE/Bedrock Prehistoric Creatures Reborn (Incompatibility Bug Fixed & Public Beta)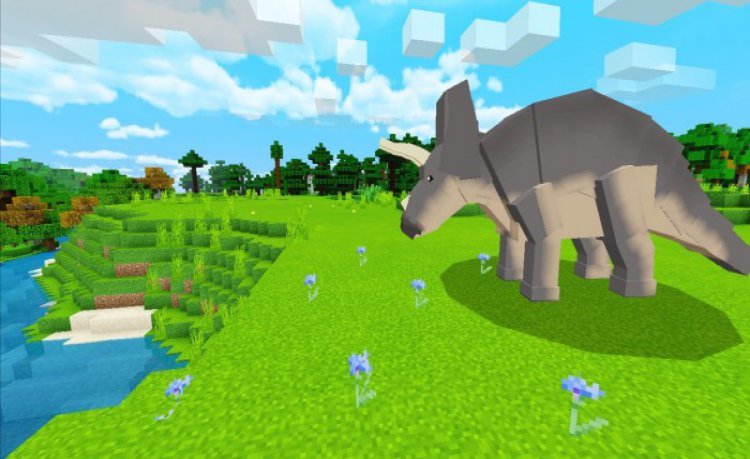 The addon is presented in beta version with only 32 dinosaurs, it will soon be updated with more features and functions. In this new beta version, dinosaurs have some different functions and animations.
this update is one more way to prepare the addon for the next additions.
Some of the dinosaurs available to the update
Triceratops
 
this beautiful animal returns to the addon now with new model and animations
Ceratosaurus
 
one of the most loved carnivores in the addon is back, now with a new model and new texture
Magnapaulia
 
one of the main novelties, magnapaulia appears in plains biomes along with tyrannosaurus and nasutoceratops
Deinosuchus
one of the biggest news in this beta are the semi aquatic animals, and an example of them is the dear deinosuchus, but we also have other animals like spinosaurus and baryonyx.
 
Tupandactylus
the flying reptiles are starting to come to the addon but they are still being worked on so there could be some bugs
species present in the addon:
Abdarainurus
Albertosaurus
Althirinus
Apatosaurus
Argentinosaurus
Avaceratops
Baryonyx
Ceratosaurus
Deinotherium
Deinocheirus
Deinosuchus
Dimetrodon
Dreadnoughtus
Dunkleosteus
Kosmoceratops
Kururubatrachus
Magnapaulia
Microceratus
Nasutoceratops
Pachyrhinosaurus
Psitacosaurus
Scutosaurus
Sinoceratops
Spectrovenator
Spinosaurus
Stegosaurus Ungulatus
Stegosaurus Sulcatus
Therizinosaurus
Triceratops
Tupandactylus
Tyrannosaurus
Utahraptor
I appreciate the help of my friends to create the add-on.
Bary
Kevin
Shazan
Pedro
Whit
Monia
Leo2007
Spino
if you want to receive news from the addon you can enter my discord server or follow my twitter and youtube channel
discord server:  https://discord.gg/mX5cHu3wKe
twitter:  https://twitter.com/mathvisot
youtube:  https://www.youtube.com/channel/UC6BQGL88jGQ2BKs-4xTGdYg
thank you for the support you give me and thanks for the showcases of my addons, it makes me very happy and more willing to continue and remember to find any bug let me know on my server that i will try to solve it to the maximum.
Please, when doing addon showcases, leave the link, my server, twitter and youtube link, it helps me a lot.
 
creator: Math2004
Changelog
added 32 mobs
natural spawn fixed
incompatibility bug fixed
add marine animals
added semi-aquatic animals
added flying animals