Looks like your ad-blocker is on.
All content on our site is
free
and
will always be free
.
Please consider supporting us with disabling your AdBlock software and to gain access to thousands of free content!
Not sure how to disable AdBLock? Follow this tutorial:
How to disable AdBlock
MCPE/Bedrock Dexten's Autumn v2.0 (Update)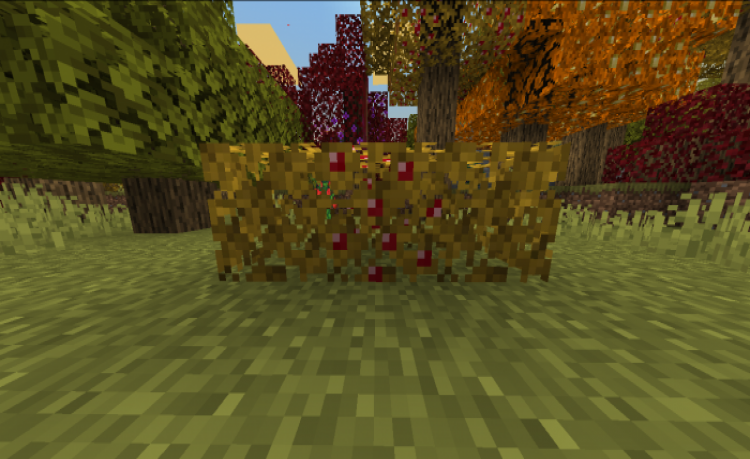 Welcome everyone, today I bring you one more of my accessories, I hope you like it since I try too hard, I remember that it is a beta, and now if we start. "Dexten's Autumn" is a plugin that adds a new biome called: "Autumn Forest", which brings 5 ​​new trees and many natural environment structures that you will surely like, so keep looking.
Autumnal Leaves
Autumn Trees
Autumnal Structures
In the Autumn biome, the water is more blue and transparent, there is a change in the environment and the generation of mobs was added in the biome.
Grapes (New)
They will work like sweet berries and will be found in the world scattered
Squirrel (New)
He acts like the fox and he likes grapes and sweet berries (no special functionality).
Chairs (New)
They work by interacting with them, they can be obtained from survival.
Location
Crafting
This addon only works by activating these options, if you activate "Caves and Cliffs" the biome will not be generated
If you are going to review this addon, remember that it is forbidden to leave a direct link. You must leave the link 
Changelog
Added compatibility with 1.17.30.
The grapes were added.
More structures will be added.
Chairs were added.
The Squirrel was added.
Installation
creator: https://twitter.com/Dexten_Mods